During the Fall, Carmen Vázquez painted three "Muñecas Sin Rostro", or "dolls without a face" on this electric box that greets you as you enter La Broa'. The dolls represent the union of three races in the Dominican Republic: the Indigenous [Taino Indians], African, and European and show that Dominicans as not defined by one race alone. The doll wears a hat to shield her from the tropical sun, the long dress represents the Victorian era (sometimes explained as a flamenco-style skirt from Spain). These dolls carry baskets of fruit, flowers, coffee or ceramic pots as they go about their work – representing the many roles of the Dominican woman.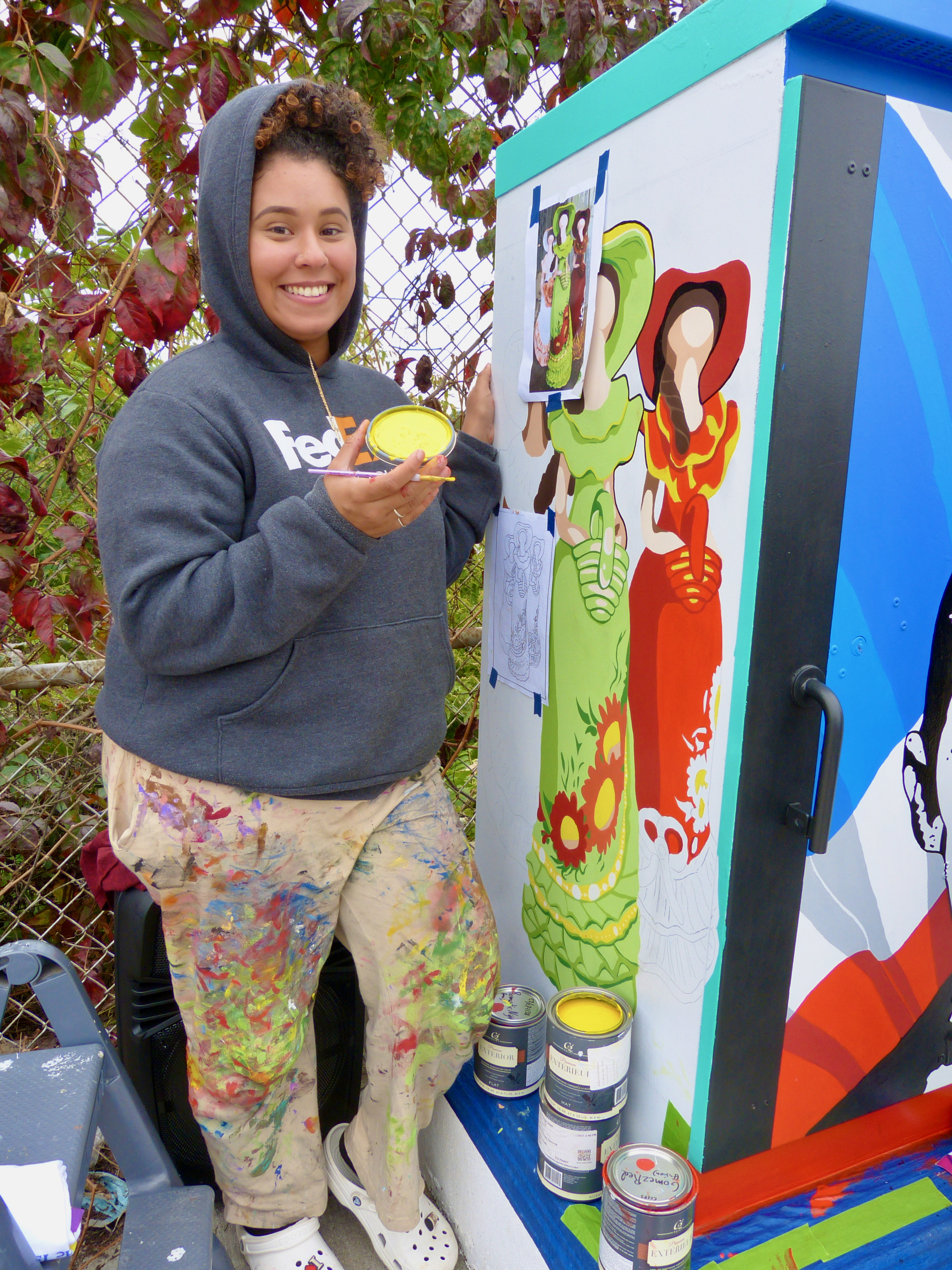 Below: Rene Gomez painted a portrait of Juán Pablo Duarte on the front-side of the Caja (electrical box). Duarte, writer, politician, liberal thinker, is one of the Founding Fathers of the Dominican Republic. He was one of the most important persons who fought for his vision of making the Dominican Republic a free, strong and self-sufficient country. Rene felt it fitting to paint Duarte's portrait as an homage to the Dominican community that makes up the majority of residence on the Broad Street neighborhood.
October-November 2022
- As October came to a close, Rene shifted his focus toward the next block northward, to what we consider to be a historical location on Broad Street: the former site of the first
bodega
in Providence.
The spot we refer to is
Fefa's Market
and it was located at 1232 Broad Street, directly in front of Roger Williams Park Broad Street entrance. It is where Josefina "Doña Fefa" Rosario and her husband, Tony decided to open a bodega in the 1960s. Fefa's Market is long gone, but it's a place that still matters. Places matter because they are tangible reminders of our past. This location and piece of history has been ignored by local preservationists and historians because the Latino story has never been recognized until Marta V. Martinez, RILA's ED and a Community Oral Historian, uncovered it. Perhaps this is because it has been widely believed that nothing very dramatic has happened on a site.
As Latinos and other local residents remember
Fefa's Market
today, it has been able to call up the past, to transport those who came here, shopped there, ate there to another time. Martínez has interviewed countless Dominicans and other Latinos and discovered that Fefa's Market is indeed notable for a single historic event: it brought Latino immigrants and migrants together, it became a go-to location when Spanish-speaking residents needed not just to connect with their food, but who sought help with interpretation, needed housing, furniture, clothing, and general knowledge about their new home in Providence.
The stories that arise when people remember Fefa's Market and its namesake, Doña Fefa, help us to better understand a time period, a social class, or a way of working, playing, or living. Memories of Fefa's Market relay important historical information and give context to life on Broad Street, despite the face that the physical structure has been destroyed.
Museo del Barrio is made possible with support in part by these funders: