Why do we still celebrate Hispanic Heritage Month?
Rhode Island Latino Arts
was founded in 1988 as the Hispanic Heritage Month Committee, and it has not only become our signature event, but each year it marks another passing year of our story. Or better put, of YOUR story.
So why, after all these years, do you still celebrate Hispanic Heritage Month?
The answer is because if we don't tell our story, someone else will. If we don't shape our narrative, express our Latino/Latina/Latinx pride in our way, no one else will. Now is time to start telling our own stories and stop being a behind-the-scene player or even worse, passive participants. It is time to take the stage.
As we enter our 35th anniversary, we simply ask this: all those who identify as Latino/Latino/Latinx to take it upon yourselves to tell your story, because it becomes your narrative and in time our narrative. Make it a story that can foster opportunities and shine a light upon positive contributions.
People, allies,
gente
in the media, you have a greater responsibility: to ensure you are telling our stories the way they should be told and supporting all of us in times when we cannot afford to let anyone else tell it for us. Our contributions are valuable; we are a significant part of the now and future of this nation. Our economic, cultural and intellectual impact is and will continue to be strong and must be acknowledged.
Let us know
how we can help, and be sure to
register your event
to be listed on our calendar page.
¡Adelante!
The Closing Event for Hispanic Heritage Month is organized by The City of Central Falls. The event is FREE and open to all.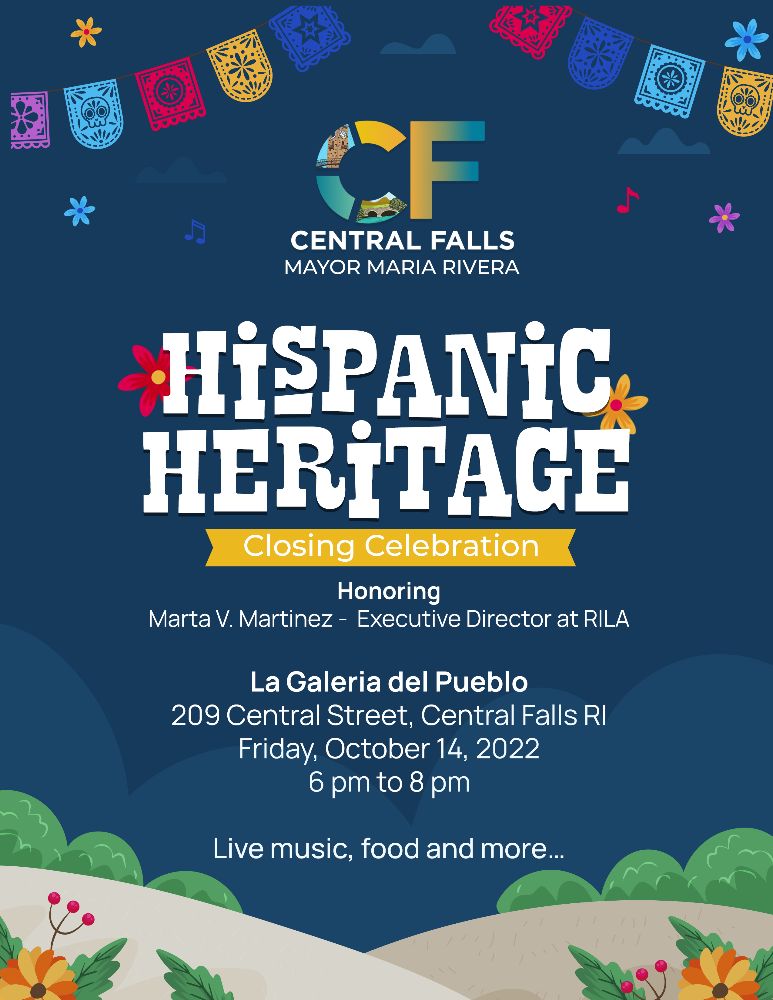 Rhode Island Latino Arts will be turning 35 in 2023!

Celebrate with us on Sunday, September 18, 2022 from 4-6:30PM as we begin to count down the days to the anniversary of the celebration of Hispanic Heritage Month, RILA's original name and our signature celebration.

Location: SouthLight Outdoor Pavilion @ The Southside Cultural Center of Rhode Island, 393 Broad St. Providence, RI 02907.

Adults: $25 per person: Children: $10 each; 6 & under FREE • Family Rate: $35 for a family of four or five (parents & children only)

Rhode Island's 44th Annual Heritage Festival


Saturday, September 17, 2022

WaterFire Arts Center

475 Valley St, Providence

12:00 to 5:00 pm

Admission to this family event is FREE.

Explore the world through art and music!

Join in a lively celebration of our state's rich cultural heritage! WaterFire Arts Center will be filled with culture, music, and dancing from around the world.

This unique festival bridges Rhode Islanders' cultures and expressions of creative talent. Rhode Island heritage groups will present cultural exhibits, visual art, and craft demonstrations from all over the world. There will be food trucks offering an array of traditional foods and drinks. The children's area will have free face painting, arts, and crafts.

The day begins with a parade of international flags from over 30 countries. Throughout the day dancers and musicians from various heritages will perform. This year's festival will also include a multicultural fashion show featuring traditional and ceremonial clothing.

Contact: Donna Alqassar

Phone: (401) 222-4133

Email:

Donna Alquasssar
Pawtucket Public Library
Children's Department
13 Summer Street ● Pawtucket, RI 02860
(401) 725-3714 x 209 ● www.pawtucketlibrary.org

Join the Pawtucket Public Library to learn about the Day of the Dead and decorate a sugar skull in celebration of National
Hispanic Heritage Month!

For children ages 5 and up. All supplies provided. Space is limited. To register please visit our library calendar.

¡Acompáñenos para aprender sobre el Día de los Muertos y decorar una calavera de azúcar en celebración del Mes Nacional de la Herencia Hispana! Para niños de 5 años en adelante. Todos los materiales proporcionados. El espacio es limitado.

Por favor visite nuestro calendario para registrarse.
Thank you to our Sponsors :: Gracias a Nuestros Patrocinadores