Food • Music • Dance • Art
★
Scroll down to use any of the three QR codes below.
🔻
▼
★
If you do not have a ticket, you can purchase dinner from any of the food vendors and stay for the dance party.
Rhode Island Latino Arts will be turning 35 in 2023!
In September of 1988, RILA's Executive Director launched the first statewide celebration of
Hispanic Heritage Month
(HHMonth). It's hard to believe, but this coming September will mark the 35th anniversary of that moment. To celebrate, we're hosting a community fiesta.
Join us for
Sabor Latino
, where you can enjoy a taste of food, music and art. Purchase your ticket to support RILA, and don't forget to bring your appetite and dancing shoes! Families welcome.
Location:
The Broad Street Gateway Center, 1197 Broad St. Providence, RI 02905.
Adults: $25 per person in advance, $30 at the door: Children: $10 each; 6 & under FREE • Family Rate: $35 for a family of four or five (parents & children only)

This is what you will get with your ticket
Sample the

Sabor Latino

Special from our food vendors.

Samples from our drink vendors.

Art-making for everyone/families.

Music & dancing until you drop!
We are looking for Volunteers
Here are the volunteer positions we are looking for:
Registration Table Volunteers: Help us sign in our guests/help guests purchase tickets. Be the first smiling face guest sees as you greet them at our table!
Door Prizes Ticket Volunteers: Help us sell raffle tickets to our guests for a chance to win an awesome prize! Walk around the venue with a roll of raffle tickets, and help guests purchase as many tickets as they would like!
Venue Set Up Volunteers: Help us create all the magic for this festival. Help us greet our vendors, set up tables, and be an extra hand for any pre-event set up needs!
Venue Strike Volunteer:
Help us clean up the venue post-event. Help us thank our vendors for coming, strike tables, and clean the space to ensure a smooth conclusion to this event.
All volunteers will work in shifts so you are able to work, but also enjoy the event! If you sign up by August 20th, you will receive a FREE T-Shirt.
If you have any questions, please reach out to: Gabriela Lopez Ruiz
gabi@rilatinoarts.org
Featuring food & drinks from these Local Latin-American Eateries!
Purchase these items only on site at Sabor Latino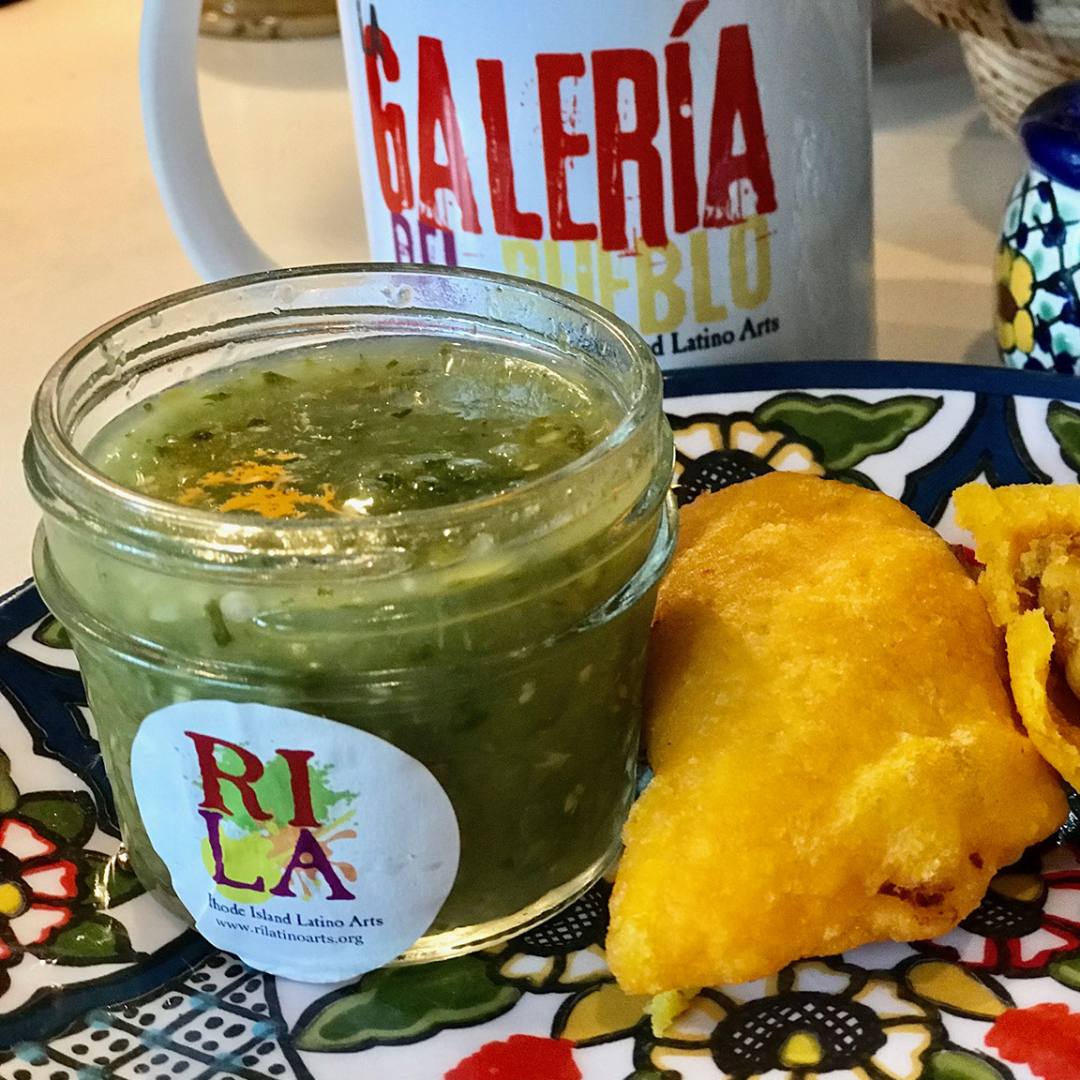 RILA's famous homemade
Salsa Verde
$3 for 4 oz. Jar

La Broa' t-shirts
Small-Med-Large-XXL for $22 ea.
XXL for $25 ea.
Central Falls t-shirts
$15 ea.
Check out these Door Prizes
Purchase tickets for a chance to win one or more of these door prizes when you arrive:
Two tickets to Trinity Rep's La Broa' play in January.
Tickets to a New England Revolution soccer game.
Gift certificates for Jerry's Artarama - Two $50 and one $100
One year membership to the Audubon Society of RI
Bilingual books for young people by Mexican author and illustrator, Yuyi Morales and Supreme Court Justice Sonia Sotomayor
Gift cards for Target,(three $25 value ea.) Star Bucks (one $15 value) and Dunkin' Donuts (one $15 value)
A bottle of Island Coquito made and sold in Rhode Island ($21 value)
Sponsorship Opportunities
Music by
Jesús Andujar y su Grupo Sazón

We are looking for local artisan vendors to sell their work during our 2023 Sabor Latino celebration. Latin-American or Latinx locally made art only. No mass produced or commercial vendors.
Date:
Sunday, September 10, 2023 from 5:30-7:30PM. Set up time is 4:30PM
Fee:
$25 | Vendor fee is for space only. Permits and/or licenses are not included. Vendors are responsible for bringing their own tables, chairs, set-up, etc. RILA will not provide or rent tents, weights, tables or chairs.
Click below to sign up.
You will be directed to pay a $25 vendor's fee in advance. It may be refundable in the event of cancellation on our part.
➤
Thank you to our Sponsors :: Gracias a Nuestros Patrocinadores