Posted May 22, 2015
By Marta V. Martínez, Executive Director of RILA
Lucas Hearne, Ana's part time assistant is painting the shelf that will hold the wall of fame.

To the right above is how it will look before the cans are laid in (notice the wall maquette to the left of the actual cart)
➤ Jeny visits for her first shoot
Posted May 25, 201
By Marta V. Martínez, Executive Director of RILA
She checks in and writes: The cart is coming alive with color!
➤ All Moving Parts Become One
Today, Ana welcomed Marta and Marianne to her farm, where she works in her studio. But, first she takes us out for a stroll where we get a sense of the beauty and history that inspires her while she works. Part of her property abuts Native American land, including this ancient stone wall which she tells us, was built by slaves in the 1700s.
She then takes us to the top of her barn, where she has her working studio and immediately we see items that are key to her inspiration: photos of Latino pioneers which are the subject of Marta's oral histories, a book filled with stories, and clippings.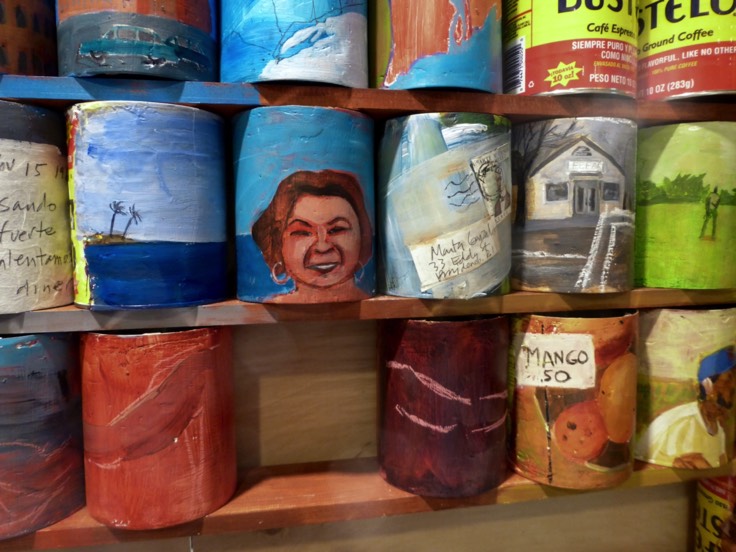 The front wall of the cart holds Café Bustelo cans with portraits of RI Latino pioneers and other objects. All reflect the personal stories told by each, and Marta recognizes Fefa Rosario's portrait and next to it, a sketch of "Fefa's Market."

Also part of the wall is the history of Central Falls with the textile mills as the backdrop, and some of individuals who are important to that history.
Marta and Ana discuss themes and which artifacts to add to the cart to make the stories richer and more meaningful to each story.
And then comes the time to practice taking it down and setting it up. We dismantle it and carry it outside. It's a bit of a struggle at first, but once we figure out where each pole and panel goes and how to latch on the wheels, it all falls into place.
★
Ana predicts she will done by middle of next week. Yes!
➤ Artifacts and a Roof: Almost Done!
Jeny visits Ana at her studio and finds her busy at work, finishing up the roof of the cart.
Ana mixes colors to get the right shade of blue and also complimentary shades.
The roof is made of canvas, draped over the steel frame created by Meredith and crew at Steel Yard.
⬇︎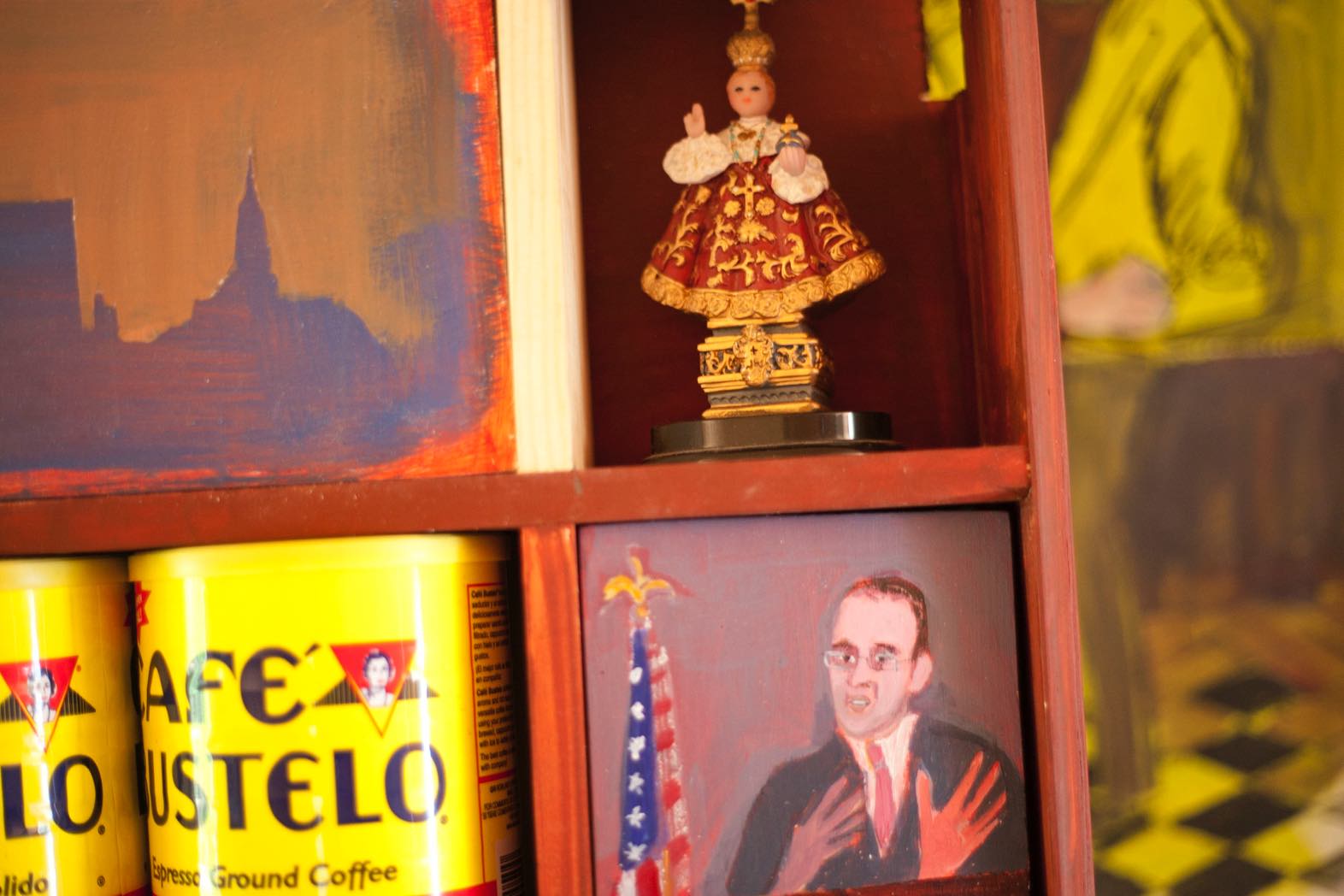 Artifacts line the shelf of the Wall of Portraits: items that bring back memories to Ana of her homeland, and others that reflect the memories expressed by the Latino Pioneers interviewed for the Latino Oral History Project.
★
Only a few more strokes of paint to the canvas roof, and Ana will be done.
★
Today Ana stopped by the RILA offices and installed the canvas roof. What else can we say except … here it is, done!
⬇︎